Athena Brick Pleated Maxi Dress
Content:
A warm mixed hue of red and orange.
Pleated, satin material with stretch.
This is not velvet. 
Raw edge on the sleeve and bottom hem of dress, allowing you to cut the dress to your preference. 
Accommodating for all body types.
Bump and nursing friendly.
Elastic empire waist with plenty of coverage at bust.
Lined from waist to mid-thigh.
100% Polyester
Hand wash cold, do not bleach, lay flat to dry.
Models:
Marianne is 5'6, 32B cup, size 4/6 and wearing size Xsmall.
For more information on returns and to fill out our return form, click here.
Customer Reviews
Write a Review
Ask a Question
09/22/2020
Simone .
United States
Comfortable and Beautiful
My expectations of this dress were very unsure due to my height (5'10") and also my 33 week baby bump. I usually wear 2x but sized down to XL and the dress fits and compliments my body in ways I never knew! This dress actually reaches the bottom of my feet, so this is a true long maxi dress. The color of this dress also looked great with my skin complexion. Very pleased with the fitting and the color of this dress! Such a beautiful pick for the fall.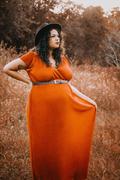 09/01/2020
Briana C.
United States
Brick Athena Dress
The dress was perfect! Bought it for one of my bridesmaids and I loved the color and fit of the dress I am so excited to see these colors for our wedding pictures! The dress is perfect for the occasion light, stretchy and great color!
08/25/2020
Kirsten G.
United States
Runs big and the exchange/return process isn't clear.
Dress runs so big, but was beautiful in color. Was a bit thin, but depending on where you're wearing it, that could be a great thing. I'm more frustrated with the return/exchange process. This dress was gigantic on me. And that was sizing down after reading reviews. I'm regularly a small/medium, 5'2, 110 lbs, althetic build, I do enjoy loser fitting items. But this dress was so big that even an XXS wouldn't cut it, and this company doesn't even carry to that size. If you look at the return options one paragraph says they don't do refunds where as the very next sentence allows refunds. So I'm very frustrated that all I will recieve is a store credit, that I can't use because everything runs large, and the refund policy was not clear. If you want ease of process, I'm not sure this is the route to go.
08/25/2020
Kirsten G.
United States
Runs Large, and not a great return policy
I want to start off by saying the color of the dress really is absolutely beautiful. I was very impressed with how pretty it was. But putting it on was very lack luster. The fabric isn't the quality I was expecting and rather thin. With a very short slip under only the waist and high thigh. This also ran very large. I had sized down after reading reviews and still would need to size down even more than another size which isn't an option as they were not go to XS. If you're a petite woman I don't know if this is a great choice. They don't refund either (which I understand with covid, but if they don't offer smaller sizes I would hope there's a way to compensate or meet in the middle) , so you're stuck with a credit that you're not going to be able to use. I'll end up giving the credit to someone else. Over all size down! And if you're a tiny woman (I regularly wear a sm, 5'2, 110lbs, Shaped like a 12 yr old boy) , just be prepared that these are grown woman sizes and you're forever stuck in the teens section. My review more reflects that their credit system isn't useful, and isn't fair in every circumstance.
SP
06/15/2020
Sarah P.
United States
Beautiful Fit
This dress is BEAUTIFUL! I got the brick color and the bronze color. I am 5'3" and normally about 150 pounds but I'm pregnant so I'm about 165. The Medium fits really well, but is a tiny bit long to wear flats or shorter heals. The dress looks a little heavier in the pictures but is more light and airy than I expected which is great because I'll be wearing if for maternity photos in July. The fabric is great quality and will not require me to wear shapewear underneath, which again because of hot temps, is a huge plus.