Jada Ribbed Velvet Wrap Dress
Select Size
Please Select a Size
Select Size
Please Select a Size
Select Size
Please Select a Size
Select Size
Please Select a Size
Select Size
Please Select a Size
Select Size
Please Select a Size
Snug Fit
True to Size
Relaxed Fit
Ribbed velvet material 
Lined in back skirt, front bodice
True wrap style
Tulip style skirt with high low effect
Long form fitting sleeves 
Hand wash cold, lay flat to dry
100% Polyester
Angela is 5'6", pant size 6, cup size 34D and wearing size S

Marianne is 5'6, cup size 32B, size 4 and is wearing size S
All US returns are free!

We offer STORE CREDIT ONLY for all qualifying returns

You have 35 days from the date of delivery to return your item

To see our full return policy and start a return click here
Shipping and processing times are as follows:

Domestic 5-12 days

International 12-28 days

To see our full shipping policy click here
Free shipping on all orders $150 + Always free returns.
Reviews
Customer Reviews
Write a Review
Ask a Question
Filter Reviews:
dress
color
size
quality
material
chest
Length
compliments
cleavage
wedding
03/02/2022
Paige A.

United States
Overall, a good buy for the price
I' m 5'2'', 115lbs. Size 34B It is a little low cut for me. So I have to put in a stitch. It is a bridesmaid dress. The length is just long enough, no dragging which is nice. Did not expect it to go on as a robe. It does wrap around to where it doesn't feel revealing. The arms are a little on the tight side but it does feel like a spandix type of material. Overall it'll work for a special occasion for the price. So I'm happy with it. Keeping this website in mind for future events!
03/01/2022
Yvette

United States
PERFECT!! LOVE THIS ONLINE STORE
Bought this dress to wear for my 10th year Anniversary Pictures They turned out great! The dress was stunning in color, fit, style and price! I will buy all my special occasion dresses from Baltic Born! So glad I found this site! I am 5'6 and wear a 36 DD bra and a small fit me Perfect!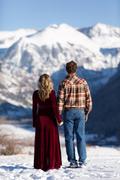 02/18/2022
Aubry H.

United States
02/18/2022
Yvette

United States
PERFECT!!
I ordered this dress for my 10 year anniversary pictures ! This dress was PERFECT! The color was beautiful and the dress fit great! I am 5'7 140 lbs and a small fit my PERFECT! I will order from here again and again!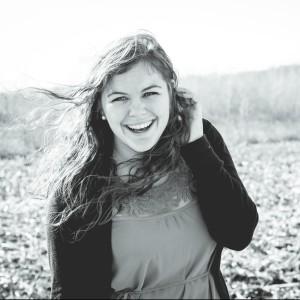 K
02/02/2022
Kathryn

United States
Extremely *****
The dress is nice, and is good material. It's a nice velvet and I liked that it was lined. However, the fit was...YIKES. I'll definitely have to return, even though my measurements were accurate and the dress fit my body, it did not adequately cover my chest. I don't mind low cut, but this didn't even cover my bra. There was not enough fabric to alter it or pin it. Sad because I really wanted to wear this for a wedding! I am 5'4", medium in most brands, and my measurements are: bust 36", waist 29", hips 39". I ordered a size medium. It was a tiny long in the back, which I expected, and was perfect with heels.
Reviews
Customer Reviews
Write a Review
Ask a Question
Filter Reviews:
dress
color
size
material
quality
fabric
Length
compliments
wedding
arms
04/16/2022
Amanda W.

United States
Tight in arms/shoulders
This dress was really flattering and the quality was nice. It's a heavier material that falls nicely and smoothes you out. My normal size is M/L, I went with M— I do have broader shoulders and my chest was OUT and being at a work event, it was annoying to keep adjusting. An L would have probably given me the extra room.
03/22/2022
Blakely M.

United States
Bridesmaid Dresses
I am so excited for these for my bridesmaids in November. Very flattering on everyone!
03/21/2022
Megan F.

United States
Size
I ordered the wrong size and returned it a couple days after I received it. Still waiting for my in store credit so I can buy the large. It's been 11 days since they received my package and haven't heard anything about my return.
03/04/2022
Rachel B.

United States
Bridesmaid
Super cute and easy to put on! I loved how it hugged me in all the right spots and I cannot wait to wear this for a bridesmaids dress on my cousins wedding day!
02/18/2022
Jennifer

United States
Low cut
Beautiful dress love the velvet. Low cut in front
Reviews
Customer Reviews
Write a Review
Ask a Question
Filter Reviews:
dress
compliments
fabric
quality
color
size
material
style
back
velvet
05/08/2022
Teresa H.

United States
Quality Product
I am so pleased with my purchase. For years I have not been able to buy clothes that fit so well and are so comfortable. There is no comparison.
04/11/2022
Heather K.

United States
04/06/2022
Krisna P.

United States
03/23/2022
Hannah M.

Canada
Beautiful dress
I find the dress to have a nice weight to it and it fits perfectly. The material is stretchy and it does look like the photos. The colour is very rich.
03/11/2022
Taryn E.

Canada
Baby Shower Dress
I got this dress in hopes it would fit my bump for my shower at 33 weeks pregnant, and it does. It will also fit once baby is out as well, so I'm happy to wear this for more than just one occasion! Colour and fabric are amazing. It's very pricy because of the Canadian dollar and shopping but this was a special occasion so I went with it! Very happy. Hope they have a Canadian store some day!
Reviews
Customer Reviews
Write a Review
Ask a Question
Filter Reviews:
dress
quality
wrap
heels
Length
fabric
size
cleavage
bust
photos
02/28/2022
Kaitlyn M.

United States
Stained my entire body black
Loved the dress and the fit bit it stained my entire body and nails black. It was the strangest thing.
02/01/2022
Whitney F.

United States
Return
I returned this item and never received my refund.
02/01/2022
Christine K.

United States
Just Ok
Liked the look/fit of the dress but the fabric dyed my arms and nails black within two hours of wearing it. I had just gotten my nails done and from them just brushing against the outside of the dress, they turned dark grey! I had pink dip powder on my nails and had to get them removed the day after I had gotten them done bc the dye wouldn't come off. Also, disappointed because I ordered two dresses to see which fit better and was only able to get store credit for the one dress I returned. This is frustrating when I had a bad experience with the first dress so not sure what to do with the store credit. I love the look and fit of the dresses but unfortunately did not have a good first experience.
01/19/2022
Carmen S.

United States
Beautiful Dress
I love the dress I feel the fit wasn't ideal. I had to order a size up and it fit beautifully everywhere except the chest. The wrap around dresses may need a little extra cloth for larger sizes being as they gap naturally. I wish that there was a better way to secure the wrap dresses.
01/04/2022
Liz D.

United States
Beautiful dress
Dress was great super comfortable. I got an xl as a 190 lb 5 ft 5 woman. I have very large ******* and that made it hard to cover so I did pin it. With heels it was a little short for me. Great dress over all.
Reviews
Customer Reviews
Write a Review
Ask a Question
Filter Reviews:
dress
Length
color
fabric
size
v-neck
hips
event
everything
heel
Great
Love this mask nice quality
04/25/2022
Brittney S.

United States
Very pretty and flows
The top does stay open a bit but if you get a larger size it fits perfectly. Its not too heavy but it holds a bit of weight. I recommend it in the wine color.
12/12/2021
Annalese G.

United States
I'm 5'4" with large hips and small ****. I got a size M and it fit me great. If you have a larger chest, I would size up for it. The scoop of the v-neck is a bit wide. I did not wear a bra with it or else it would have showed the cups. Also, it's a smidge shorter than the pictures. It fit perfectly for me, but if you're any taller I would tread lightly. Quality was good.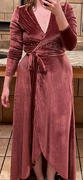 11/16/2021
Caitlin K.

United States
Jada velvet dress
I wore this dress for my bridal shower and it was a huge hit. The color and fabric were gorgeous- it is slightly stretchy, super soft and comfortable, and so flattering. I felt beautiful! I am 5'6 and the medium length was perfect on me with a small heel. Can't wait to buy another dress for my next event!
10/06/2021
Katie M.

United States
bought for a wedding
I bought this dress for a wedding I'm attending in November so I have yet to wear it longer than trying it on. It fits perfectly, the color is exactly what I wanted. I believe it will be comfortable throughout the evening of the wedding too. Even though I really do love everything (so far) about it, I do wish it was a tad bit longer. I am 5'6 and I like to wear heels. The dress is a perfect length in the front but I wish it was an inch or 2, maybe 3 longer in the back. I know I'm nitpicking, but that would be the only thing. From the reviews I read of the same dress just different color I was expecting this dress to be quite long.
Reviews
Customer Reviews
Write a Review
Ask a Question
Filter Reviews:
dress
quality
wedding
compliments
color
fabric
material
size
engagement photos
look
Interesting fabric, good quality, fit concerns
This dress was purchased as a bridesmaid's dress for a late fall wedding, and it'll be a great choice for that! The ribbed velvet is unique and feels great, and makes the sage look more autumnal. The length is great and versatile, and drape/movement of the skirt is lovely. As a woman with broad shoulders and a full bust (36G), I DID have the same issues with this wrap style as with others- namely it's quite revealing in the bust and shows a normal bra. This will be addressed by a stick-on bra and the addition of a hook and eye to the neckline. Additionally, the sleeves are quite long- but that's an easy enough sewing fix!
04/27/2022
Golnar F.

United States
More beautiful in person
The fabric is so nice, and the quality of this dress is great! It's really comfortable and flows really well.
03/30/2022
Yazmin R.

United States
True color
Love it the color is true color
03/07/2022
Shannon P.

United States
Beautiful
The dress is beautiful! It is well made and fits wonderfully.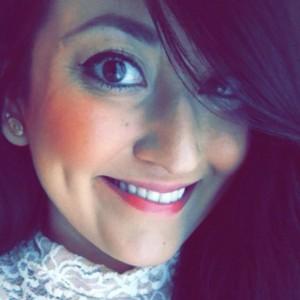 JM
03/02/2022
Jessica M.

United States
Beautiful & Unique
This dress is lovely! So unique and well-made. The dress fits true to size. I wore it for holiday family photos and received many compliments.