Lydia Slate Blue Maxi Dress
Flowing chiffon material over a full lining from bodice to hem.

Sleeves are unlined.

Three gold buttons at each wrist, no elastic.
Elastic waist, connected sash on each side.
Surplice neckline, this is not a wrap dress. 
Bump and nursing friendly.
100% polyester
Hand wash cold, line dry, do not bleach.
Models:
Marianne is 5'6, pant size 6, 32B cup size and wearing size Small.
Bekah is 5'10, 36C cup and wearing size Large.
For more information on returns and to fill out our return form, click here.
Customer Reviews
Write a Review
Ask a Question
10/20/2020
Stephanie B.
United States
BUYER BEWARE! Runs extremely Small in the bust
I ordered the slate blue and the fall print Lydia dress for my maternity pictures. I was sadly very disappointed that the bust was insanely small- despite measuring myself and rounding up a size!! I was able to squeeze in one fall picture during my maternity shoot- literally with my back to the camera because my bra and chest were completely out and took it off immediately to return it. Tags still attached, worn for 15 seconds- I literally would have worn it longer in a dressing room just trying it on!!! I didn't really have a choice but to wear it because I had based the decor, outfit for my husband, dogs and the outfit for our unborn baby around this dress. After returning it 2 weeks ago I received it back in the mail today- with the tags removed stating that they found evidence on my Instagram that I wore it! Are you kidding me?!? They even removed all the tags so now I can't sell it on Poshmark!?! UNBELIEVABLE! I WILL NEVER EVER DO BUSINESS WITH THIS COMPANY AGAIN. The dress is in perfect condition and they didn't even give me the tags back and they stocked my instagram... JUST RIDICULOUS. They can keep their store credit from the blue one.. clearly they're getting cheaply made dresses from China and marking up the price tenfold and they don't allow refunds at all- just store credit! BUYER BEWARE!
10/20/2020
Margot M.
United States
Gorgeous
This dress is very high quality. The inside layer is heavy and fabulous. I'm 6' tall and this dress grazes the floor without any shoes so it's a perfect length for me. If you're not tall you would need to get the dress altered but it would be worth it. It hangs well and is very flattering. I'm a bit self conscious of my not extremely flat belly and this hides imperfections well.
10/19/2020
Anne B.
United States
Not true to size
The dress was beautiful, but it does not run true to size. I wear a 1 x, but they didn't have it in stock, so I bought a 3X and was just gonna have it altered and taken in, but when it came in, it was very tight. The sizing is way off. I almost couldn't wear it. Plus it was extremely long. I am 5 ft 5 inches and I had to have about a foot cut off of it.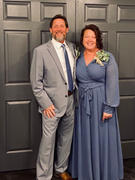 10/19/2020
DoniBeth D.
United States
This company will scam you for your money & not allow you to make a return
I bought a dress & tried it on when it arrived. The dress was too big so I did the proper steps for a return. The dress was shipped back to me & said my return was not valid because there was deodorant on the dress. I examined the dress & there was no deodorant. If there was any, if was probably because they put it on there. This is very upsetting. How is someone to know the exact size & for of a dress from an online order? Very poor customer service in my opinion.
10/16/2020
Brooke A.
United States
Beautiful Long Dress
This dress is exactly what I was looking for this fall! I'm 6'0 tall and it's always impossible to find a true maxi dress that is long enough and this one is perfect! It grazes the floor and is so comfortable and the sleeves are the perfect length too. Can't wait to wear it to a wedding next weekend!