Caroline Lace Maxi Dress
Select Size
Please Select a Size
Select Size
Please Select a Size
Select Size
Please Select a Size
Select Size
Please Select a Size
Select Size
Please Select a Size
Select Size
Please Select a Size
Snug Fit
True to Size
Relaxed Fit
Fall in love with this romantic lace dress
Dusty blue lace material over slightly stretchy lining
Off shoulder elastic neckline
Lace overlay bodice adds feminine flair

Pull-on style with elastic waistband

Separate self-tie sash with gold hardware
Long maxi length, perfect for taller frames
Partially lined from bodice to mid-thigh

For maternity, we recommend ordering your pre-pregnancy size
Self: 95% Acrylic, 5% Spandex; Contrast: 100% Polyester

Marianne is 5'6, cup size 32B, size 4 and is wearing size S

Makayla is 5'7, cup size 34C, size 4 and wearing size S
All US returns are free!

We offer STORE CREDIT ONLY for all qualifying returns

You have 35 days from the date of delivery to return your item

To see our full return policy and start a return click here
Shipping and processing times are as follows:

Domestic 5-12 days

International 12-28 days

To see our full shipping policy click here
Free shipping on all orders $150 + Always free returns.
Reviews
Customer Reviews
Write a Review
Ask a Question
Filter Reviews:
dress
size
quality
compliments
medium
maternity photos
pictures
Shipping
shower
photos
06/23/2022
Leila G.

United States
Great dress for beach wedding
Great dress for beach wedding. I did take the extra lining out of it as it would have been too puffy and hot.
06/16/2022
McKayla

United States
Maternity Dress
I purchased this dress for my maternity photos that I had taken at 8 months pregnant. I had previously purchased the Victoria off the shoulder dress for my sisters wedding and really liked how the off the shoulder style looked and felt. When I purchased this dress, I purchased a large which was technically still a size up and it fit perfectly but I definitely could have gone with a medium. I absolutely loved the way that this dress fit and looked for our photos.
06/15/2022
Niomie

United States
Caroline Lace Maxi Dress | Mulberry -
Very cute. Always a little worried about sizing when trying a new place, esp since I'm plus size and tall. The only thing that doesn't fit is the under lining. In the model it goes to about mid knee, for me barley covers my butt (other than the liner, the dress fits really nice!). Not a big deal for me cus I always wear shorts underneath dresses. If your tall or have a big butt, might want to size up, if the dress liner is important for you.
04/29/2022
Marquis H.

United States
Perfect. Just wish the inner liner was longer.
I am obsessed with this dress. I was hesitant about the color because it's not my typical go-to, but I wanted something different for our maternity shoot and the saffron was on sale. Well I took a chance, and it's perfection in my opinion! The color is just a little less orange and more yellow-toned than it appears online. My only complaint is that the inner liner is pretty short, especially for those of us with bumps. I expect postpartum the inner liner will hit in a better place, but just wanted expecting mamas to be aware. For reference: I am 5' 8.5", 165lbs pre-pregnancy.
04/25/2022
Haley M.

United States
Reviews
Customer Reviews
Write a Review
Ask a Question
Filter Reviews:
dress
color
size
wedding
lace
compliments
quality
Length
style
photoshoot
06/15/2022
Rae A.

United States
Unflattering Dress
Unflattering and boxy; A lot of material.
06/15/2022
Hailee H.

United States
Fit is weird
I really wanted to love this dress but it's just so awkward. I wish this amazing brand would have petite sizing. It was so tight in the top elastic area but I was swimming in the rest of the fabric. I love this brand and have purchased many dresses that work, but would love a petite sizing as an option.
05/25/2022
Stephanie B.

United States
05/12/2022
Kimberly E.

United States
Beautiful color!
I love this dress! The style is so boho and perfect and the color is exactly as pictured.
05/04/2022
Cristin B.

United States
Def size downnnnn on this dress!
The overall dress is beautiful. Beautifully made with gorgeous lace. I had planned to wear it for my maternity shoot at 7.5mos pregnant. 170lbs. 5'5" but it was just so big I looked ridiculous lol I am usually a small, and ordered a small, but needed even smaller. Unfortunately they didn't have it. Going to have it altered and hopefully wear for a wedding next spring. Will def buy from this company again, but will be very cautious purchasing with the return/exchange policy being what it is.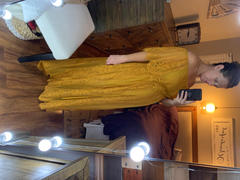 Reviews
Customer Reviews
Write a Review
Ask a Question
Filter Reviews:
dress
color
quality
wedding
something
purchases
girls
lace
2020
part
04/16/2022
Tanna F.

United States
Loved it!
Bought this to wear at a wedding and it was STUNNING! Loved the color, got so many compliments, and the material kept me cool in the summer heat!
03/29/2022
chelle C.

United States
Not the right fit for me
Thought I was going to love it. However the tooling lining i wasnt a fan of, and it didn't help with the shape of the dress. My frame was kind of lost in the dress and gave more of a frumpy look. I think this dress would b ideal for those on the slimmer side or with more height.
03/29/2022
Ashleigh H.

United States
This dress put in a shift!
Bought this dress for a wedding and was honestly a little worried about how the lace would hold up. I got so many compliments on the dress and it was seriously so comfortable. The best part- I danced the night away, lived my best life and the dress is still in the same perfect condition as it was when I pulled it out of the bag the day I got it. Would completely recommend to any 30 something mom that wants to be comfortable and look trendy all while reliving their glory days!

03/17/2022
Andrea

United States
Love It! True to Size
I loveee the color of this dress, the material is high quality and the fit is perfect. I love the belt that comes with it as well. Would buy again 100%
03/10/2022
Alethia I.

United States
Maxi dress
Great materials, well made. I just wish you had maxi dresses that don't have to be altered for shorter people. If I'm spending upwards of $100 on a dress I don't want to have to spend another $30 on alterations.
Reviews
Customer Reviews
Write a Review
Ask a Question
Filter Reviews:
dress
color
size
wedding
lace
quality
reviews
fabric
material
chest
06/15/2022
Lisa H.

Canada
Had to return it
I loved the color and style of this dress. I ordered a medium. I'm 5'4, 150lbs and four months pregnant. It's a beautiful dress with lovely material, it was just a lot of dress for me. Super long and it just seemed like a lot of material in the skirt. It just swallowed this little lady up. Wished it would have worked for me!
06/15/2022
Holly S.

United States
It looks sort of frumpy on me. Not sure if it's the dress or my body type. But I am returning.
06/01/2022
JULIA C.

United States
Wedding Guest
Wore this for a recent wedding. Very comfortable and got a lot of compliments.
05/30/2022
Bethany B.

United States
Beautiful - not for me
Beautiful dress didn't love how it fit
Reviews
Customer Reviews
Write a Review
Ask a Question
Filter Reviews:
dress
fiancé
engagement pictures
shower
family photos
color
fabric
compliments
material
06/28/2022
Lauren C.

United States
Terrible
This dress was so unflattering and looked like a picnic table covering. Very cheap looking material.
06/02/2022
Emily G.

United States
Amazing!! Highly recommend!
I love the dress and it fit great. It was just a little long.
05/23/2022
TRINA A.

United States
Just what I wanted
I love the quality of this dress and the color. Purchases it for a summer wedding that sadly won't happen now. The model is very petite, and I have a big bottom half My hips are a little much for this style but I still love it
05/01/2022
Kimberly W.

United States
04/20/2022
Mariela A.

United States
Beautiful dress but...
The fabric and color beautiful! Unfortunately I had to return, it runs big and extremely long. I'm 5'6" so I want expecting it drag as much.
Reviews
Customer Reviews
Write a Review
Ask a Question
Filter Reviews:
dress
description
credit
Items
snug
body type
shoulders