Esmerelda Velvet Wrap Maxi Dress
Select Size
Please Select a Size
Select Size
Please Select a Size
Select Size
Please Select a Size
Select Size
Please Select a Size
Select Size
Please Select a Size
Select Size
Please Select a Size
Select Size
Please Select a Size
Select Size
Please Select a Size
Select Size
Please Select a Size
Select Size
Please Select a Size
Select Size
Please Select a Size
Snug Fit
True to Size
Relaxed Fit
True wrap style
Unlined but not sheer
Mid-weight, high quality velvet with slight stretch throughout 
A gorgeous green/gray color

Bump and nursing friendly, we recommend sizing up after 25 weeks

Sophia is 5'5, cup size 32D, size 0 and wearing size S

The model is wearing 3' inch heels in photos, please take into account for length

If your bust and waist measurements are the same we recommend sizing up for more coverage at bust
All US returns are free!

We offer STORE CREDIT ONLY for all qualifying returns

You have 35 days from the date of delivery to return your item

To see our full return policy and start a return click here
Shipping and processing times are as follows:

Domestic 5-12 days

International 12-28 days

To see our full shipping policy click here
Free shipping on all orders $150 + Always free returns.
Reviews
Customer Reviews
Write a Review
Ask a Question
Filter Reviews:
dress
color
quality
size
material
wedding
maternity photos
fabric
heels
sleeves
06/20/2022
Allison C.

United States
Bridesmaids dresses
I absolutely LOVE these dresses, as do my bridesmaids. We're all excited for them to wear at my wedding this November. These dresses are such excellent quality, and the girls love how soft they are! Service has been great as well, I've not had any issues and for getting multiple off the same dress shipping has been fairly quick too. Baltic has been a lifesaver for helping me plan; also a huge plus and relief I can purchase groomsmen ties in the same color!!
06/06/2022
Greta S.

United States
Just as showed
The color, for and style is as shown and would definitely buy again!
05/29/2022
siobhan k.

United States
So good!
Such a fantastic dress! The color is my absolute favorite!
04/23/2022
Ryan K.

United States
Loved it!
Beautiful dress, should have sized down for the look I wanted but love it!
03/27/2022
Marianne K.

United States
Reviews
Customer Reviews
Write a Review
Ask a Question
Filter Reviews:
dress
color
compliments
heels
size
Length
material
wedding
fabric
picture
05/02/2022
Makenzie L.

United States
Great Buy
It did not fit, but customer service was wonderful. The color and material was beautiful.. will buy again. Thank you BB!
04/25/2022
Heather W.

United States
Comfy and good quality
I love this dress. I bought it for a friend's wedding and figured the design would be really comfortable for dancing and long periods of sitting. The fabric had a good weight to it and stayed down during a windy outdoor ceremony. The dress also has a pretty good length so it's be a good option for taller people; I am 5"4 and wore 6" heels bringing me to 5"10 and the dress still brushed the ground and completely covered my shoes.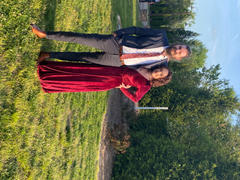 03/12/2022
Mary E.

United States
My experience was good. It fits well a little to long but that's a plus.
03/08/2022
Jeannette R.

United States
Too big
I didn't use it I returned, I am very disappointed at the fact that you cant get your money back when you return what you've purchased. Instead they offer credit, horrible experience. Wouldn't recommend this store to anyone.
Reviews
Customer Reviews
Write a Review
Ask a Question
Filter Reviews:
dress
color
fabric
quality
Length
size
sleeves
everything
bust area
compliments
04/06/2022
Jennifer B.

United States
Beautiful and high quality dress!
The color is beautiful and it fits perfectly. High quality I would definitely buy from her again!
03/17/2022
Holly E.

United States
Quality so-so and not returnable
The dress is pretty, but I was expecting a little more quality for the price. The material is rather thin. I didn't end up wearing the dress and was hoping to return it, but when I went to do so I saw you only do exchanges. Very disappointed. When buying online it's so important to be able to return items and this is an unusual policy which really should be made clear without digging.
02/24/2022
Abbe W.

United States
Fits like a glove
I'm very pleased with my purchase, though the dress did require tailoring at the bust and hemline. Once those edits were made, this dress truly fits like a glove and I couldn't be happier.
02/23/2022
Sofia A.

Canada
Love my new dresses
Dresses are exactly as hoped. They fit great. Sizing suggested an xl but I went for a large. They are soft. We'll made and I feel like a goddess.
02/21/2022
Ariel D.

United States
Buy it now!
This dress is STUNNING. Flattering on all body types. The jade color is absolutely beautiful. I am 5' and 100 lbs, 32-34 B bust and the small was a little bit big. Could've ordered an extra small.
Reviews
Customer Reviews
Write a Review
Ask a Question
Filter Reviews:
dress
quality
Length
chest area
sleeves
heels
front
cleavage
wedding
arms
06/23/2022
Tess M.

United States
The neck was really low cut
The quality of this dress was really good. The problem with it was the neck was cut really low and it made me uncomfortable. I tried to wrap the dress tight to make it not feel so low and it did not help. I returned it. I'm 5"11' and 245lbs. The length was perfect. I got the 1xl.
03/25/2022
Lesley H.

United States
Very stretchy material
It was difficult to put on-very stretchy and I'll fitting I would like to return it
03/16/2022
Jessica C.

United States
Classic Wrap Dress
This is a great quality, classic black dress. It was beautiful for pictures; however, I did have to pin the v-neck as it was very deep. I'm 5'7", wore high heels and still had to have the dress hemmed. Overall, I was happy with the dress and it looked as described and pictured
03/10/2022
Alison P.

United States
Cute but needs additional ties for a proper fit
It's cute but there are no inside ties sewn in to secure it in place around your waist. Just one set of outside ties, like a coat. I'll need to do those myself I guess.
03/06/2022
Casey T.

United States
Great dress
It's a great dress! Very comfy, my bridesmaids said they could sleep in it. The neckline is very low so be prepared to pin it unless you want cleavage.
Reviews
Customer Reviews
Write a Review
Ask a Question
05/25/2022
Melissa L.

United States
Love my dress!
This dress fits great and the material feels good too. It is very long, I'm 5'9" and I'm wearing 4" heels and it's the perfect floor length for me but someone shorter may need a hem.
05/11/2022
shellie d.

United States
Sent me the wrong dress
I was sent the wrong dress , customer service was amazing and they worked w me to get the item I wanted
03/31/2022
Mackenzie W.

United States
Dress
I loved it and I will use it as bridesmaid dresses in my wedding :)
02/21/2022
Annemarie P.

United States
Not as expected
The color of the dress was much lighter than it appeared on the model and the waist of the dress sat much too high on me and looked awkward, like I had no waist. The sleeves were also a tad short, although I do have kind of long arms.
Reviews
Customer Reviews
Write a Review
Ask a Question
Filter Reviews:
dress
material
color
compliments
spring wedding
four
brand
arms
point
money
06/23/2022
Wid N.

Canada
Overpriced
The material is nice. I'm 5"4 and it's a bit long without shoes. The expected a deeper purple but the colour seems more on the pink side. I think I could've gotten very similar dress in cheaper websites. I personally wouldn't purchase it again especially because shipping took long (3 weeks) and it's bit much for the dress styles.
06/15/2022
Bryten P.

United States
The fabric is not quite as pictured
The fabric is a different color, it's kind of shimmery and not as subdued as the picture.
04/29/2022
Amy P.

United States
Beautiful dress
I was a little hesitant to order the dress because I had never heard about this brand before and it almost seemed a little too good to be true that they had such a wide selection of pretty dresses. However, I went ahead and ordered it. The perfect dress to wear to the spring wedding I'll be attending. This was a good purchase!
04/18/2022
Shaina C.

United States
The Most Beautiful Dress
Ordered this dress for a wedding. It was absolute perfection. The material was fantastic quality, the color was on point. I received so many compliments.
03/05/2022
Bethany G.

United States
Gorgeous gown!
Purchased this dress for my baby showers in April. I'm absolutely in love with it. My normal pre-pregnancy size is 14-16/XL. I'm smaller on top and thicker through the hips and thighs. I purchased this dress in the 1X and it is perfect. It's not snug on the top (didn't want it tight on my arms) and it's a true wrap so I have plenty of room in the belly. It is long, fine for me I'm 5'7" but will drag a tad when I'm in my boots which is fine for me. I feel like a queen in this. I could have sized down for post-pregnancy but I will be able to wear this regardless. Don't hesitate, this dress is gorgeous!!!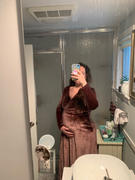 Reviews
Customer Reviews
Write a Review
Ask a Question
Filter Reviews:
color
wedding
dress
daughter
photos
quality
fabric
size
raves
Planning
05/06/2022
Jennifer B.

United States
Esmeralda Dress - just what I was looking for.
Bought for an October wedding, so haven't worn yet. Lovely, comfy fabric. Will definitely need to shorten - I purchased a size M and am 5'5. My daughter has purchased at least 3 dresses from you and raves about them.
03/26/2022
Hannah S.

United States
Beautiful Dress
Love this dress! I bought this for my daughter to wear as my bridesmaid. The color is so much more beautiful in person than on the website. It was exactly what we were looking for.
03/23/2022
Amy G.

United States
Excellent!
Haven't worn them yet- for a December wedding. They are lovely.
03/05/2022
Amy G.

United States
Velvet
Planning to purchase as bridesmaid dresses.
02/03/2022
Melissa B.

Canada
Bridesmaid dress
Love this dress! The quality is amazing. The tie is very helpful in shaping the gown. The color was a bit more Green from the photos online, however it's still very beautiful. I'm 5'9, 145lbs and I ordered a small. The arms are slightly shorter than I would like, but it's doable.
Reviews
Customer Reviews
Write a Review
Ask a Question
Filter Reviews:
dress
wrap dresses
favorite
waistline
dress quality
shapewear
curv