Zurich Long Sleeve Sequin Gown
Select Size
Please Select a Size
Select Size
Please Select a Size
Select Size
Please Select a Size
Select Size
Please Select a Size
Select Size
Please Select a Size
Snug Fit
True to Size
Relaxed Fit
Sold in four stunning colors, the Zurich Long Sleeve Sequin Gown is here to make a statement. With a draped bodice detail and flowy sequin material, you will feel like a Goddess wearing this sexy yet sophisticated piece. And don't get us started on the shoulder pads! We love a bold, confident fit.
Hidden zipper at back 
Slit at left front 
Deep V neckline 
Draped bodice with shoulder pads
100% Polyester
Fully lined

Jing is 5'8", cup size 32A, pant size 0 and wearing size S
All US returns are free!

We offer STORE CREDIT ONLY for all qualifying returns

You have 35 days from the date of delivery to return your item

To see our full return policy and start a return click here
Shipping and processing times are as follows:

Domestic 5-12 days

International 12-28 days

To see our full shipping policy click here
Free shipping on all orders $150 + Always free returns.
Reviews
Customer Reviews
Write a Review
Ask a Question
Filter Reviews:
size
dress
sequins
slit
compliments
brother
pregnancy
amount
times
light
06/23/2022
Shama

United States
Needs heavy tailoring
I purchased this dress and it was completely unwearable - the cleavage came down to my stomach and the leg slit came up to my thighs where you could see my underwear if I sat down. I had to take it to a tailor to fix everything. It also runs very small - I'm 110 lbs and 5'4 and got a size Small but it was extremely tight.
06/21/2022
Lindsay

United States
Beautiful but frustrating
I bought this dress for a wedding. It's gorgeous and I got a lot of compliments. However, it's pretty annoying to wear because the sequins snag and my arms kept getting stuck to other parts of the dress. Bits of sequins also kept falling off all night and I left molted black glittery pieces everywhere. I wouldn't recommend this dress if you want to rewear it because it's pretty damaged.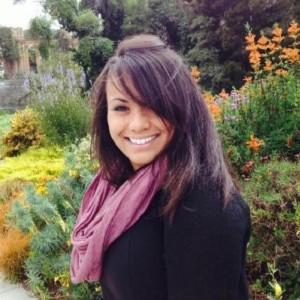 S
03/15/2022
Steph

United States
Brings Glamour, Class and Edge!
What can I say but this dress kept the compliments coming all evening long at my brother's black tie wedding! The sequins catch the light beautifully in the evening, and the slit brings the perfect amount of allure to this fun-to-wear, glamorous dress! Sizing does run small and I did order one size up. Also, the bust is very revealing and I did have to secure to keep it modest. But overall, I highly recommend!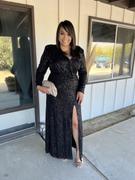 02/06/2022
C

United States
Pulled the hwole evening
It's a beautiful dress, however, anytime I moved the sequence would get stuck on each other and my arms would be pinned to the dress. I spent the whole wedding detaching my arms or detaching my dress from someone else. The dress was completely ruined from all the strings pulling.
02/04/2022
Gracie H.

United States
Meh
Definitely not meant for someone who has any curves. Exposed my nether regions and my boobs 100%
Reviews
Customer Reviews
Write a Review
Ask a Question
Filter Reviews:
dress
book publishing house
Semmons
Gala
shoulder pads
business
children
everyone
Did not receive it yet and very disappointed
04/06/2022
Koralys G.

United States
02/07/2022
Tiffany S.

United States
Perfect for my business gala!!
I loved this dressed! I purchased it for the grandopening/business gala of So Much Semmons, my children's book publishing house. Everyone loved the dress! So classy!
01/25/2022
Gabriela

United States
This is a "look at me" dress!
I wore this dress to a black tie optional wedding and it was show stopper! The color is beautiful. The fit was great, I did get it tailored to change the shoulder pads and close some of the slit. It did fit true to size. I am larger at my hips so the stretch of the dress was perfect. Similar to other reviews beware of the sequin snag. I did have to learn a little unhinge-shimmy to separate sequins as they snagged but I didn't lose any. It's a nice quality gown that I'll wear again.
01/13/2022
Nicholas S.

United States
Looks classier on website.
Don't get me wrong, the dress is beautiful, but for the price (and how easily it snags) it is a little disappointing, and once I put it on, the dress was a little lackluster and didn't look as beautiful on as it did on the website.
Reviews
Customer Reviews
Write a Review
Ask a Question
Filter Reviews:
dress
gown
size
compliments
sequins
downside
condition
spots
times
part
Dress is Beautiful!
Dress is beautiful, but runs small.
05/17/2022
Sarah H.

United States
Beautiful dress!
This dress is beautiful I loved the color, the style and everything about it the only thing is that although I sized down, the dress is a bit loose on the chest.
04/06/2022
Paige R.

United States
04/06/2022
Melanie S.

United States
03/29/2022
Danielle D.

United States
Beautiful dress!
The dress is super gorgeous and comfortable. The only downside is that the sequins snagged on each other multiple times in multiple spots causing them to fall off and leave strings. It would happen quite often and it was quite irritating.
Reviews
Customer Reviews
Write a Review
Ask a Question
Filter Reviews:
dress
compliments
quality
sequins
side
wedding
places
reference
anything
height
05/30/2022
Day M.

United States
Looks stunning
Beautiful gown and tons of compliments. However, I had a terrible time wearing it. The sequins snagged literally every second I was constantly trying to untangle myself making it difficult to enjoy my time.
05/06/2022
Ed D.

United States
Zurich Long Sleeve Sequin Gown - Beautiful!!!!
Bought this for my wife to wear for dinner for our Anniversary, Quality and fit is perfect. She can't wait to wear it!!!
04/22/2022
Arielle G.

United States
04/16/2022
Rachael B.

United States
Stunning
This dress is beautiful. I received so many compliments. The only problem was the sequins would tangle and I'd sometimes have my arms stuck to my side. It was my first time wearing sequins so could be user error. Still an AMAZING dress that I'd 100% recommend.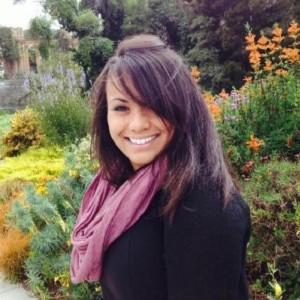 S
04/04/2022
Steph

United States
Bring on the Sultry
This dress brings on the sultry, without being too extra for formal events. The dress is very classy and flattering, hugging curves in all the right places. The slit is the perfect cut, showing off leg, but not too much. Perfect for my brother's wedding. Received many compliments. Love, love, love!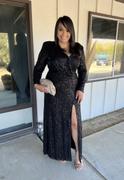 Reviews
Customer Reviews
Write a Review
Ask a Question
DreSs order.
Had to return. Didn't fit. Waiting for store credit so I can order it in a bigger size