Grace Sparkle Gown
Select Size
Please Select a Size
Select Size
Please Select a Size
Select Size
Please Select a Size
Select Size
Please Select a Size
Select Size
Please Select a Size
Select Size
Please Select a Size
Select Size
Please Select a Size
Select Size
Please Select a Size
Snug Fit
True to Size
Relaxed Fit
Look and feel magical in this stunning gown

Champagne with iridescent sequins and silver shimmer
Textured semi-sheer material over solid lining
Faux wrap surplice neckline
Elastic waistband with separate self-tie sash
Leg slit on left side of full length skirt

Keyhole and button closure at back neck
Fully lined excluding sleeves
Bump and nursing friendly with stretch throughout fabric
100% Polyester
Hand wash, do not bleach, lay flat to dry

Models are wearing 3" heels in photos, please take into account for length

Maloree is 5'7, cup size 32B, size 2, and wearing size S
Dani is 5'7, cup size 40DDD, size 22 and wearing size XXXL
Marianne is 5'6, cup size 32B, size 4 and wearing size S 


All US returns are free!

We offer STORE CREDIT ONLY for all qualifying returns

You have 35 days from the date of delivery to return your item

To see our full return policy and start a return click here
Shipping and processing times are as follows:

Domestic 5-12 days

International 12-28 days

To see our full shipping policy click here
Free shipping on all orders $150 + Always free returns.
Reviews
Customer Reviews
Write a Review
Ask a Question
Filter Reviews:
dress
wedding
compliments
size
color
material
sparkles
Length
pictures
person
Wedding Guest Dress? Yes!
Such a flattering color and fit! I am 6 foot and this dress worked even with me wearing 3 inch heels! Got so many compliments on this dress!
06/30/2022
Tabitha A.

United States
Pretty dress
The dress is very pretty. The sequence is a iridescent color as I thought it was going to be champagne color. It will still work for my daughter's wedding. Would buy again. Thank you!
06/28/2022
Michelle S.

United States
Too thin but beautiful.
I've returned it to Baltic Born now waiting on documentation of my store credit.
06/22/2022
Sarah L.

United States
Better than I expected
The fit was perfect. I am 5'9" and the length was to the floor. Exactly what I wanted. The color was beautiful and the material was better than I had expected for the price.
06/21/2022
Amanda J.

United States
Lovely Dress
I enjoy the dress. The fabric was a bit clingy to the arms. I appreciate how long the dress was. I am 5'9" and 7 months pregnant. I could have had it hemmed. I didn't want to risk hemming it with a growing belly. I would probably buy from Baltic Born again... if they worked on their customer service a bit. Leaves room for improvement for sure.
Reviews
Customer Reviews
Write a Review
Ask a Question
Filter Reviews:
dress
wedding
size
compliments
material
heels
quality
person
shape
Length
05/15/2022
Rebecca R.

United States
Flattering dress
Overall, I really like the fit of this dress, although it's very long. It clings in the right places and is soft and comfortable. I'm taking one star off for the quality of the fabric, which is average. Baltic Born has a great range of cute dresses at reasonable price points, but I wish its returns policy wasn't so inflexible. It'll put me off purchasing again.
05/14/2022
Ashling K.

United States
Love love love this dress!
I'm 5'10 with a 40D cup and this dress is PERFECT! In love with the shape and the coverage and the way it flows! 10/10 would recommend.
05/09/2022
Ashley B.

United States
Love it!
Perfect for my occasion. Does fit a little big and really long but it's beautiful and amazing quality!
05/02/2022
Alexis S.

United States
Love it!
This dress was fabulous!! I am 190lbs and 5'4" and although i had to wear heels with this dress I have no complaints! I got a size large and it was a perfect fit for me. I am buying from here again :)
04/19/2022
Kendra T.

United States
Love this Dress!!
This dress is stunning in person! I would say it does run a little large and long though. I'm normally a medium (I'm 5'8 and 165 lb), and I could've gotten a small.
Reviews
Customer Reviews
Write a Review
Ask a Question
Filter Reviews:
dress
compliments
wedding
material
color
heels
Length
quality
Baltic
medium
Gorgeous dress, right price
The dress was everything I expected. Soft flowing material, color on point, fit as expected, true to size.
06/19/2022
Karen C.

United States
Love it!
Very flattering. I will be wearing this to my daughter's wedding. It is just the right amount of sparkle. It is a little long. I'm 5'9" and really don't want to wear heels.
05/05/2022
Cortney

United States
Good quality
This dress was perfect to wear to a wedding. It was comfortable and fit good but made a statement.
04/25/2022
autumn n.

United States
Loved it!
I was really surprised with the quality of this dress. The fit was perfect! I will definitely buy from Baltic Born again
04/13/2022
Grecia A.

United States
Reviews
Customer Reviews
Write a Review
Ask a Question
Filter Reviews:
dress
shower
quality
heels
choice
elopement
slip
Sizing
return policy
complaint
Perfect maternity gown
I purchased this for my maternity pictures and they turned out great! I love the gold detail and it was very comfortable and flattering. Plus, I can wear it after baby comes
06/01/2022
Emily A.

United States
Not proportionate
The dress is pretty, the sequins are a little cheaper looking than I'd expected when you see it in person but it photographed nicely. My problem was with the fit. I'm 5'7 about 140lbs with a 36D chest and ordered a small. The dress did perfectly everywhere except the chest was ENORMOUS. I had to safety-pin it closed.
05/17/2022
Mallory S.

United States
Beautiful dress!
My experience was great! The only complaint I have is that the dress was a little too big. But other than that it was great quality and absolutely stunning!! I would recommend sizing down.
05/16/2022
Courtney B.

United States
Perfect dress for me!
This dress was super comfortable and made me feel gorgeous for my elopement. I will definitely be ordering again if all their dresses are this comfortable!
03/29/2022
Heather C.

Canada
See-Through Material
Nice dress with a decent fit, but the material is sooo see-through. I had to return it because of this. You'd need a slip underneath for sure. Was also very long.
Reviews
Customer Reviews
Write a Review
Ask a Question
Filter Reviews:
dress
wedding
store credit
size
fault
purchases
first
anything
issue
mother
05/24/2022
Giulia R.

United States
Great wedding/evening gown
Fits well, love the sparkle!
04/09/2022
Ashlee C.

United States
Beautiful Dress
Bought this for 2 weddings in Vegas. It was absolutely beautiful in person. I am normally a large, based off the sizing chart I ordered an XL and it was maybe half a size too big. It's forgiving fabric. It was an issue only I noticed though. Even my mother in law thought it was gorgeous. Already looking at BB dresses for my next wedding!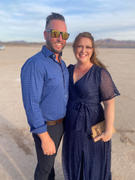 03/31/2022
Kiah S.

United States
03/29/2022
Stacey W.

United States
Question regarding purchase
My overall experience was wonderful, however I did not wear the dress purchased because it just wasn't completely the perfect dress for the wedding I was attending. I unfortunately waited too long to return not realizing I only had 21 days. Not only could I not return but couldn't get store credit. It was completely my fault because I did not read the small print thoroughly, my mistake, but it was my first time ordering from you. Is there anything you can do to help me? Thank you in advance, it is appreciated.
03/25/2022
Kelly M.

Canada
Reviews
Customer Reviews
Write a Review
Ask a Question
Filter Reviews:
dress
girls
returns
photo
point
baby
Shipping
room
measurements
sleeves
06/23/2022
Amy H.

United States
Very long and stretchy
I initially ordered the 3xl dress according to my measurements and the measurements for the dress. It was extremely huge on me and I was able to go two sizes down (xl). That size fit me much better and still with room. The dress is stretchy, which helps if you happen to get a size a little smaller than normal. The room for ***** girls was perfect (I'm a 38H) although I do need to sew a little dot/safety pin so my boobs aren't hanging out. Both dresses that came were very long (I'm 5;7) and I have to get it hemmed (probably 3 inches off). The Slit in the dress is at the perfect hight too. I have a mom pooch and thankfully the dress hides that well and makes me feel great! Overall, the fit of the dress is very nice and accommodating for many body sizes/shapes. As for the look of the dress. The color is more dusty blue, so pretty. The shine and sparkle per say is just amazing and hard to capture on a photo. The sleeves are longer but see through. The material is very soft and comfortable. It's also wrinkle proof! I have stuffed it back into the bag it came in a couple times and I have yet to find a wrinkle!! I'm wearing it for my sister's wedding and plan on wearing it for Christmas at some point. It's got that magic look! As returns go. It was very easy. It took a little longer than I wanted (instant and obviously instant wasn't gunna happen) but it worked out very well. Shipping was very fast! It was in the mail within 24 hours from purchase and the first dress arrived like 2 days later, second dress probably 5/6 days later. The return process itself was easy. I was nervous about that since I was pretty sure I got the wrong size, but it worked out very well!
06/19/2022
Claire T.

United States
Beautiful but over the top
First off, if you're worried about glitter dropping from this dress, don't be. The shine comes from metallic threads shot through the fabric and sequins sewn on top, so you won't leave a trail of shine behind you. The fabric is absolutely beautiful in the light blue, but it was too much in one dress - metallic threads, crinkle fabric, sequins, plus gauzey sleeves. The sequins are really obvious in person and it felt over the top for a black tie optional wedding. All that being said, I did feel gorgeous in it. If there hadn't been sequins, I would have kept it. Size wise i went up a size based on the reviews (XXL) and I think it would have fit better in my regular size (XL). I'm typically a 16, 38DDD chest, 5'9" and was the right length in 2.5" heels.
06/19/2022
Tyminga D.

Australia
Great for maternity wear
I felt a million $$ in this dress. Great fit and will still be able to wear after I have the baby.
06/19/2022
Christie L.

Canada
Sending back
Not as pictured . Cheap material