Krystal Satin Wrap Gown
Select Size
Please Select a Size
Select Size
Please Select a Size
Select Size
Please Select a Size
Select Size
Please Select a Size
Select Size
Please Select a Size
Select Size
Please Select a Size
Select Size
Please Select a Size
Select Size
Please Select a Size
Select Size
Please Select a Size
Select Size
Please Select a Size
Snug Fit
True to Size
Relaxed Fit
Feel glamorous in an instant with this stunning gown
Radiant champagne color
Satin material with slight stretch and lots of shine
True wrap style with V-neckline
Short flutter sleeves
Wrap ties at waist loop through a hole in the side to tie
Maxi length with tulip style skirt
Silhouette creates movement and shows just enough leg
Fully lined
Self: 93% Polyester, 7% Spandex; Lining: 100% Polyester
For larger busts, we recommend sizing up for more coverage

Bekah is 5'10, cup size 34C, size 10 and is wearing size L

Marianne is 5'6", cup size 32B, size 4 and wearing size S
All US returns are free!

We offer STORE CREDIT ONLY for all qualifying returns

You have 35 days from the date of delivery to return your item

To see our full return policy and start a return click here
Shipping and processing times are as follows:

Domestic 5-12 days

International 12-28 days

To see our full shipping policy click here
Free shipping on all orders $150 + Always free returns.
Reviews
Customer Reviews
Write a Review
Ask a Question
Filter Reviews:
dress
wedding
color
material
quality
size
compliments
fabric
medium
heels
06/28/2022
Aysha M.

United States
No conservative options
The quality of dress was excellent, but I may not be able to buy again because I can't seem to find any dress options that don't have low necklines but also have sleeves. For people looking for conservative dresses, it's very limited. Would love to see some more options in this area soon!
06/28/2022
Carleigh R.

Canada
Can't wait to wear it! - Perfect wedding guest dress.
The dress arrived faster than expected. I'm glad I used the sizing chart. Otherwise I wouldn't have known to go up a size. It fit perfectly and looks amazing on. It just needs a steam to get some wrinkles out that it got in the shipping process.
06/23/2022
Gail V.

United States
Great
Great wish I had bought one size bigger
06/22/2022
Liku S.

United States
Loved it
Such a nice material. Very form fitting and the color matched perfectly. Great quality.
06/07/2022
Jennifer B.

United States
Bridesmaid dress
This dress fits exactly like it is described and is great quality. The shipping was extremely fast!
Reviews
Customer Reviews
Write a Review
Ask a Question
Filter Reviews:
dress
material
size
color
wedding
fabric
compliments
quality
bridesmaid dress
Shipping
Return takes too long
I actually returned this item a month ago and I've just gotten notification you should receive it tomorrow. I had gotten a medium last year for my daughters wedding two weeks ago and was afraid I'd gotten the wrong size. Ended up wearing the original dress and received many compliments. Return time is much too long though.
06/28/2022
Marissa

United States
Waaaay too long!
The color of this dress was absolutely stunning. I wanted so badly to love it. Unfortunately, the top didn't fit right and was cut way too low. But the biggest problem I had was the length of the dress. If you are petite, this is NOT the dress for you, unless you want to pay to get it altered. The entire bottom back half of the dress was 6+ inches dragging on the ground. I'm not sure why there is so much extra fabric there, but this is definitely made for someone extra tall. Unfortunately I cannot return the dress for a refund so I will resell. Hopefully it will work out for someone a little taller. My sizing is 130 lbs, 5' tall, 34B. I ordered a small.
06/26/2022
Courtney C.

United States
Difficult to Tie
This dress requires you to manipulate the strings and cross cross the whole dress in some way in order to wear it but does not come with instructions on how to tie the entire dress together. It does not simply slide on or zip. It was very frustrating to figure out. Would recommend another dress. Material and color were nice though.
06/19/2022
Christina M.

United States
Perfect bridesmaid dress!
As a postpartum mom I was afraid that I wouldn't find a dress that I could feel comfortable in and was so self conscious with everything I tried on. But let me tell you- I felt gorgeous in this dress. It made me feel pretty for the first time in a long time, even with my newfound mom ***. I'd 100% recommend it!
06/15/2022
Bryten P.

United States
Love!
Beautiful and flattering. I'm getting another one in a different color.
Reviews
Customer Reviews
Write a Review
Ask a Question
Filter Reviews:
dress
quality
wedding
color
fabric
compliments
size
material
heels
wrap style
07/05/2022
Abigail S.

United States
Great Dress
This dress is great! The wrap is perfect, especially if a little ***** like me and you need the room for your chest. The length is also great. I am 6 feet tall and it lands right at my ankles. I am able to wear heels with it. I'm using it for officiating a wedding and am so pleased with this order!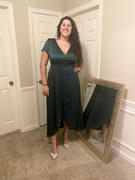 06/29/2022
Elise S.

United States
Love this dress!!
This dress fits absolutely beautifully, is such high quality, and is the exact color as pictured! I'm 5'4 and purchased a size small. I did have to hem it a few inches, but that's normal for me to have to do with floor length dresses. It arrived so quickly as well! Will definitely be buying from Baltic Born again. So so pleased.
06/03/2022
Asena V.

United States
I have in multiple colors
This dress is stunning, my bridesmaids wore these in copper. I wore the green for Christmas Eve. Quality is great, color is as pictured and material feels great! Will be wearing one for my baby shower at 31 weeks.
05/26/2022
Kristy W.

United States
Not great
Arrived in ripped packaging and the dress had stitching right in the fron that was already ripped out… would not spend 100$ on anything from here again
05/17/2022
Alitzel C.

United States
Reviews
Customer Reviews
Write a Review
Ask a Question
Filter Reviews:
dress
size
material
color
quality
bust
wedding
refund
photos
account
Krystal Satin Wrap Gown
Loved the color and fabric. The only thing that bothered me a little is that the neckline was a little low. But I guess that is a personal preference:)
06/03/2022
Cynthia F.

United States
exactly what I need
This dress is exactly what I need for my daughter's wedding the color- eucalyptus was hard to find and this one is perfect! The style is very flattering. The material is beautiful and nicely lined. It was delivered quickly.
05/23/2022
Alexis H.

United States
The perfect event dress!
I was absolutely shocked when I received my Krystal dress because it was beyond beautiful! The first thing you'll notice is the weight of the package! The dress is well made (superb quality) and not thin or flimsy like you can get from other places. The material is soft and smooth, very pretty in natural light. Color was exactly as shown on the website and the sizing was spot on. I have received so many compliments wearing the dress out and I always get asked where I purchased from on my social media posts. I will absolutely be purchasing more from this company!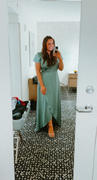 05/20/2022
Alice T.

Germany
Perfect dress for my brother's wedding
Like all the other reviews I have to say the fabric is great, it's super comfortable and you have to trust the table measurements. I usually wear an M/L but my measurements put me in the XL group so I ordered that one and it fits really well. I'm quite short so I had to cut a bit of the hem but it really looks great! The only downside is that I ordered this from Europe and it takes a while for things to come over but otherwise I'd definitely buy from this website all the time! :D
05/11/2022
Lindsey S.

United States
LOVE this dress!
It's totally adjustable and comfortable, and the perfect length for me at 5"6. Did come a little wrinkled so keep that in mind! Only thing that could make it better would be pockets probably! Overall I'm very pleased i chose this dress. Color is a gorgeous dark sage/light eucalyptus.
Reviews
Customer Reviews
Write a Review
Ask a Question
Filter Reviews:
dress
color
quality
fabric
wedding
wrinkles
material
engagement photos
order
chest
Satin Blue Dream
I got so many compliments on my dress when I attended a friends wedding. It was so flattering and comfortable that I even wore it for my engament photos a few weekends afterwards. The dress was also super easy to steal to get out he wrinkles. The only stipulation was that if I twirled a certain way, the slit showed my under garments, but I could have been wearing it slightly too far one way, so next time I'll try a different technique.
05/31/2022
Carmen C.

United States
Great dress
This dress is fantastic. Fit is perfect.
05/28/2022
Erin M.

United States
Best purchase
I picked this dress out for va vineyard wedding and it was perfect! I loved how it was lined and comfortable, I steamed initial wrinkles out and it never wrinkled again all night. Thank you for a great made dress that's beautiful
05/25/2022
Angela A.

Spain
05/12/2022
Emily H.

United States
Love this fabric!
Love this fabric! It is a beautiful shape and color. So flattering and pretty.